In the evenings you can hear the Jackal calling amongst other animals and insects that seem to have left city life.
Driving into the property you will find yourself surrounded by nature lots of trees and land that is un-spoilt just a 350 metre sand road leading to the Guests Cottages that overlook a small dam that offers fishing and the Magaliesburg Mountains are the backdrop to your magnificent view. The sun sets behind the mountains and almost promises to be breath taking on most evenings.
Imbabali Retreat and Venue gets you back into nature with a tranquil and relaxed environment with Jungle Gyms for the kiddies.
We have a restaurant offering breakfast lunch, dinner and refreshments with good service.
TV & Free Wi Fi are available at the restaurant or you can book this facility to host Conferences, Meetings, Functions, Weddings, Team Building and more…in a relaxed environment under thatch.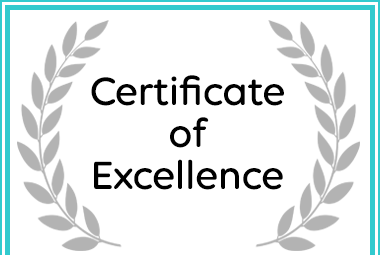 Imbabali Retreat & Venue received an
Afristay.com
Certificate of Excellence Award.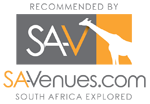 PLACES OF INTEREST AND THINGS TO DO – MAGALIESBURG AND SURROUNDS
** Indicates discount vouchers are available on request.
PLACES OF INTEREST:
**Maropeng Visitors Centre – Definitely worth a visit
**Sterkfontein Caves – this can be done in conjunction with your visit to Maropeng
**La Venitziana ice cream factory - Ice cream tasting on a Saturday morning
Wonder Cave
Askari Lodge: Plumari Museum
Van Gaalen Cheese Farm: restaurant and cheese tasting
Elephant Sanctuary: Hartbeespoort
Predator Park at Aasvoelkrans - only 5km away
Jabula Big Cat Sanctuary - booking essential - Contact: 072 982 4003/087 813 0668 Email: info@jabula.tv - Young children not allowed unless carried.
ADVENTURE:
**Canopy Tours: booking essential - Hollybrooke Farm Horse & Quad Trails: Skeerpoort - Contact: 082 552 1285 email: info@hollybrook.co.za - Guided horse & quad trails, mountain bike trails, breakfast trails, picnics, paintballing, archery, clay pigeon shooting, canoeing.
**Saddle Creek Adventures: Skeerpoort - Contact: 079 467 9906 Email: info@saddlecreekadventures.co.za - Horse riding, Go-karting, Archery, Mountain biking, Quad biking, picnics.
FISHING:
Magaliesburg Barbus Haven
Bernally's
GAME VIEWING:
**Askari Lodge: Game Drives - booking essential - Contact: 014 577 2658 email: reservations@askarilodge.co.za
HIKING:
Mount Serene Mountain Sanctuary Intaba Thulile
Kgaswane Mamagalie Phefumula
Quiet Mountain Segwati
SPAS :

Some spas offer a mobile service and will come out to the farm
Valley Lodge Hotel
Rosewell Spa
Askari Lodge

**Just Haven Spa – mobile service offered
RESTAURANTS:
Black Horse Restaurant & Craft Brewery: Magaliesburg 082 453 5295 www.blackhorse.co.za
Brauhaus am Damm: 087 8025519
Die Ou Pastorie & Shop: Skeerpoort 012 207 1027 www.dieoupastorie.com
Askari Lodge: Magaliesburg/Hekpoort 014 577 2658 www.askarilodge.co.za
The Bru House Diner & Craft Beer: Hekpoort 073 805 7731 www.bru-house.co.za